---
Computers ... cheaper and faster
Real-time audio processing is now common (e.g., Max/MSP)
Greater interest in combining computers with live performers
Increasing need for ways to allow performer actions to control sounds produced by computers
Controller technologies ... cheaper, faster, easier to use, and more available (e.g. from DigiKey, RobotShop, ...)
Significant scientific and commercial effort focused on "Human Computer Interaction (HCI)" design
International grant projects
New Interfaces for Musical Expression (NIME) conference
Games are making increasing use of HCI devices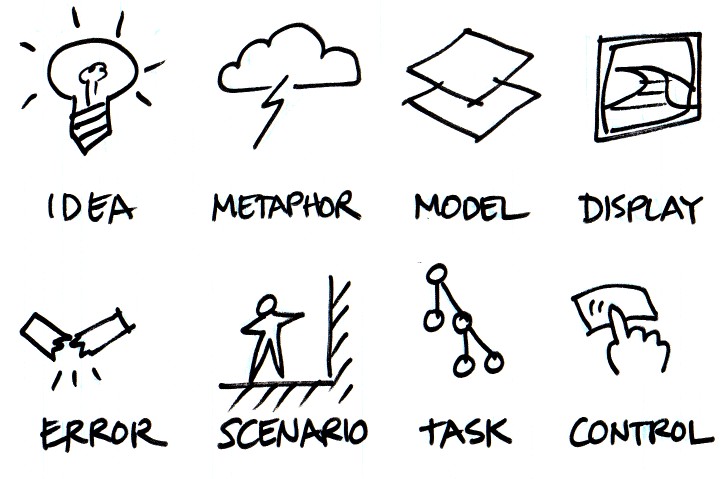 (from Bill Verplank's Music 250, CCRMA, Stanford University)
Optimization of the interface between man and computer
Issues of gesture mapping
"Digital music instruments" (DMIs)
Traditional instruments augmented with sensor technology
Matthew Burtner's "Metasax"
Neal Farwell's "Adapted Trombone"
Instruments played by more than one person simultaneously
The "reacTable" by Sergi Jorda and Chris Brown
"Tooka" by Fels

et. al.
New instruments based on traditional instruments
The "Holey Controller" by Gary Scavone
Dan Overholt's "Overtone Violin"
New instruments inspired by traditional instruments
Dan Trueman's "BoSSA - bowed-sensored-speaker array"
The "PIPE" by Gary Scavone
Michel Waisvisz's "The Hands"
Tomie Hahn's "Pikapika"
Gil Weinberg's "Beatbugs"
"Expressive Footwear" by Joe Paradiso

et al.
The device or the music?
A controller designed for a specific sound algorithm or environment ...

... can be tailored to a specific set of requirements
... but will likely be less applicable in other contexts

One size does not fit all (e.g., the piano keyboard as "universal" music controller)
Can we achieve results as flexible as traditional acoustic instruments?
What algorithm parameters do you wish to control (and how)?
Some algorithms offer intuitive parameter mappings:

e.g., clarinet physical model: breath pressure

In other cases, a parameter may present a less obvious mapping solution:

e.g., clarinet physical model: reed stiffness, vocal-tract shape

We may have a technique with known parameters but no intuitive interface

e.g., granular synthesis: grain size, grain density, ...

An existing interface may play a role in the algorithm control design:

e.g., a controller with push buttons only

A good control mapping may combine two or more algorithm parameters:

e.g., brass physical model: lip resonance, pipe length
How will you play it?

dance
together with traditional instruments
installation
performance art context (e.g., a staged chess game)

What types of gestures will affect a sound change?

audiences like to see / hear "cause and affect"

Interaction design: are these good gestures for the intended outcome?

discrete vs. continuous control
effort
haptic feedback

Ergonomic Issues:

repetitive actions that might stress the performer?
sensor placement
Microprocessors and/or commercial devices
Can we obtain control data from the desired gestures with available sensor types?
Wires vs. wireless
Connection type and communication protocol (MIDI, OSC, ?)
Power and size
Cost
Speed requirements ... control signal bandwidth
Programming interface
Ease of use
Size
Number of input / output pins
Communication protocol
Sensors are typically connected in an electric circuit to produce a variable voltage, current, pulse width, ...
Things to consider:

Size
Durability
Bandwidth
Quality (noise, jitter, ...)
©2003-2018 McGill University. All Rights Reserved.
Maintained by Gary P. Scavone.