---
Control

in music and audio programming contexts can take on many different forms. For example, this could include the control of low-level audio processing parameters to create a desired synthesis outcome, the control of music or note events in a music or compositional scheme, or the use of a digital music instrument to control a sound algorithm running on a computer. For such control schemes to be generally useful to a large number of people, they need to conform to some known communication protocol. Surprisingly, only a few proposed communication protocols are widely accepted.
Musical Instrument Digital Interface (MIDI)
ZIPI
SKINI
Open Sound Control (OSC)
Designed in 1982/3 by music instrument manufacturers
A standardized and efficient means of conveying music performance information as electronic data
Information transmitted via MIDI messages
MIDI Controllers: convert performance gesture to MIDI output messages
MIDI Sequencers: allow for the capture, storage, editing, combination, and replay of MIDI messages
MIDI Synthesizers: receive input MIDI messages and respond with user-specified sounds
5-pin DIN connector (only three pins used)
MIDI input, output, and thru connections
MIDI input uses an opto-isolated circuit to avoid ground loop
unidirectional serial bit stream at 31250 bits per second
10 bits transmitted per byte (start bit, 8 data bits, and one stop bit in 320 microseconds)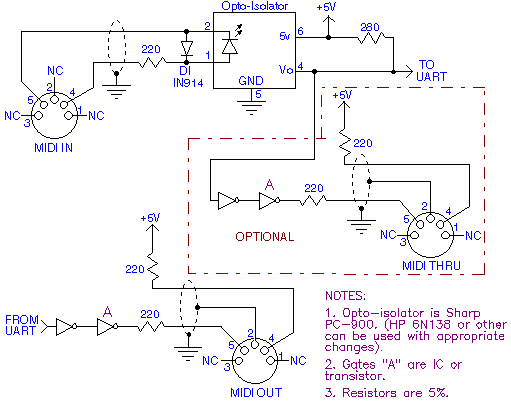 A schematic of a MIDI (IN and OUT) interface (from http://www.borg.com/~jglatt/).
Channel:

Channel Voice
Channel Mode

System:

System Exclusive
System Common
System Real Time
Message Type
Status Byte (Hex)
Message Name
Data Bytes
Data Byte 1
Data Byte 2
Channel
0x8c
Note Off
2
Note Number
Note Velocity
0x9c
Note On
2
Note Number
Note Velocity
0xAc
Aftertouch
2
Note Number
Key Pressure Value
0xBc
Control Change
2
Controller Number
Control Value
0xCc
Program Change
1
Program Number
0xDc
Channel Pressure
1
Pressure Value (greatest of all depressed keys)
0xEc
Pitch Bend
2
Value LSB
Value MSB
System Exclusive
0xF0
System Exclusive
n
Vendor ID
anything
System Common
0xF1
Time Code Qtr Frame
1
Time Code Value
0xF2
Song Position
2
Position LSB
Position MSB
0xF3
Song Select
1
Song Number
0xF4
Undefined
0
0xF5
Undefined
0
0xF6
Tune Request
0
0xF7
End of Sysex
0
System Real Time
0xF8
Timing Tick
0
0xF9
Undefined
0
0xFA
Start Song
0
0xFB
Continue Song
0
0xFC
Stop Song
0
0xFD
Undefined
0
0xFE
Active Sensing
0
0xFF
System Reset
0
Channel Voice Messages:

musical performance data
Note On, Note Off, Aftertouch, Control Change, Program Change, Channel Pressure, Pitchbend

Channel Mode Messages:

affect the way a receiving instrument will respond to Channel Voice messages
MIDI controller numbers 120 - 127
controller #120: all sound off
controller #121: reset all controllers
controller #122: enable/disable Local Control
controller #123: all notes off
controller #124-127: Omni Mode on/off, Mono Mode, or Poly Mode
System Exclusive:

can be used to send more general or currently undefined data between devices
manufacturers of MIDI equipment may define their own formats
manufacturers are granted unique identification (ID) numbers which are included as part of the message
manufacturers are required to publish the details of their System Exclusive data formats
certain System Exclusive ID numbers are reserved for special protocols (MIDI Sample Dump Standard, MIDI Show Control, MIDI Machine Control)

System Common:

intended for all receivers in the system
quarter frame messages are sent periodically to keep track of the running SMPTE time
it takes 8 quarter frame messages to specify the current SMPTE time

System Realtime:

used to synchronize all of the MIDI clock-based equipment within a system, such as sequencers and drum machines
a timing clock message is sent 24 times per quarter note
to help ensure accurate timing, these one-byte messages are given priority over other messages
may occur anywhere in the data stream (a Realtime message may appear between the status byte and data byte of some other MIDI message)
General MIDI is a specification for synthesizers that respond to MIDI messages. It was first created in 1991.
General MIDI devices produce a specified set of instrument sounds for the 128 program change numbers.
MIDI channel 10 is reserved for percussion instruments, with an agreed upon set of sounds selected by MIDI key number.
It's an industry standard
It's common, well known, and widely used
For a large number of tasks, it works
It's relatively simple to use
It only provides limited expressivity (7 bits or 128 states)
It's a serial protocol, which restricts simultaneous events
It's relatively slow ( 1000 Hz)
It's equal-tempered and keyboard based
First described in Winter 1994 issue of

Computer Music Journal

Developed at CNMAT in conjunction with Gibson Corporation
A key contribution of ZIPI was the "Music Parameter Description Language"
One of the first serious attempts at a new standard
Developed by Perry Cook at Princeton University as part of the Synthesis ToolKit (STK)
MIDI compatible where possible yet extends MIDI in incremental ways
ASCII text
Floating-point types
Each message is a single line of text
Each message has a type, time, and channel

  NoteOn          0.000082  2  55  82
  NoteOff         1.000000  2  55  0
  NoteOn          0.000082  2  69  82
  StringDetune    0.100000  2      10
  StringDetune    0.100000  2      30
  StringDetune    0.100000  2      50
  NoteOn          0.000000  2  69  82
  StringDetune    0.100000  2      40
  StringDetune    0.100000  2      22
  StringDetune    0.100000  2      12
  StringDamping   0.000100  2      0.0

Open-ended, dynamic, URL-style symbolic naming scheme
Transport independent
Numeric and symbolic arguments to messages
Pattern-matching language to specify multiple recipients of a single message
High resolution time tags
"Bundles" of messages whose affect must occur simultaneously
Query system to dynamically determine the capabilities of an OSC server and get documentation
"/oscillator/4/frequency 440.0" represented by 32-byte message:

 2f (/)  6f (o)  73 (s)  63 (c)
 69 (i)  6c (l)  6c (l)  61 (a)
 74 (t)  6f (o)  72 (r)  2f (/)
 34 (4)  2f (/)  66 (f)  72 (r)
 65 (e)  71 (q)  75 (u)  65 (e)
 6e (n)  63 (c)  79 (y)  0 ()
 2c (,)  66 (f)  0 ()    0 ()
 43 (C)  dc (Ü)  0 ()    0 ()

Biggest problem: no standardization of OSC address patterns, interconnectivity of devices
©2003-2018 McGill University. All Rights Reserved.
Maintained by Gary P. Scavone.